Stress really does seem to dominate the lives of so college students, doesn't it? In this day and age, stress is almost inevitable. However, some methods for stress management have become tried and true over time. Here are some great tips that have worked for me and my loved ones as we've learned how to balance work, family, love and school.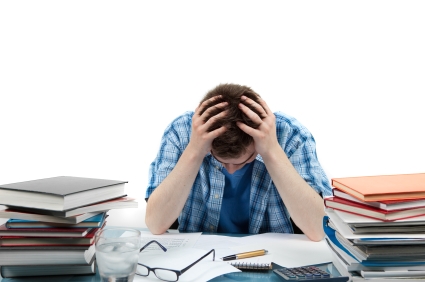 1. Spirituality
If you're open to it, consider joining an on campus organization devoted to spirituality. Many find that simply surrounding themselves with others who share a particular faith can do wonders for their daily outlook. If you've never really been into religion, that's ok – but it might be exactly what you need to stay happy and focused. There are many to choose from, and it's ok to seek something different than what you were raised with.
2.Yoga
A lot of people swear on their mother's grave that enrolling in yoga classes is the best way to de-stress. This is because it gives both your body and mind a chance to relax. You can forget about the competitive nature of college, your many priorities, relationships, etc and instead learn how to find inner strength. Many colleges offer these for free, or as part of a student health membership. There's also a good chance you can earn credit for it (usually only one though).
3. Relaxation
Even if you have only 20 free minutes per day, make sure that you dedicate that time toward watching your favorite television shows, catching up with your friends on social media sites, reading a book or lounging around! This is normally best achieved on its own, rather than during a break between classes. Spend busy, rushed times catching up on errands and studying – then devote spare time for a time of day you can really enjoy it.
4. Get Enough Sleep
When you are tired and cranky throughout the day, you are going to become stressed. It is imperative to get enough sleep to keep up your energy, work ethic, health, grades and looks! This is a huge challenge for many students, but it IS possible. You just have to know when to say "I have to go to bed." Try to balance every late night with an early night, and you'll find a good compromise.
5. Healthy Foods
Your body needs proper fuel to keep going. Talk to your doctor about ways that you can better incorporate more fruits, vegetables and other healthy foods into your life. Always eat foods that come from plants, rather than things made in plants. Most college cafeterias (and student health offices) have nutritionists you can speak with, and there are likely many options for you already if you look around.
6. Pets
Pets can really help you to unwind and get rid of stress. They love you so much and cuddling up with them is one of the best ways to spend a quiet evening. Even if you don't consider yourself a pet person, see if you can watch a friend's for a few days – you might change your mind (and your life)! This usually isn't possible in dorms, but you can try this if you live off-campus.
7. Let Grudges Go
If you are constantly thinking about how mad you are at someone else, you are not allowing yourself to move on. There are so many more important things in life than negativity – learn to find common interests with others, even if you don't get along. Everyone deserves support and love. In college, this can be hard – especially at smaller schools, but remember that you have a long life ahead of you – why focus on the negatives?
8. Doctor's Visits
Sometimes, stress can grow so bad that you actually become physically sick. Make sure you stay up-to-date on all of your doctor's appointments, so that you can catch anything that would be stressor in the bud – whether something as minor as a cavity or major as cancer. Besides, as a student, you probably already pay hefty fees to be able to use the on campus clinic – so get your money's worth!
9.  Anxiety
In certain cases, constant stress can actually come from being prone to anxiety itself, so you might need to see a specialist to help you better deal with these types of issues. Though you shouldn't jump to conclusions, you should never be afraid to make sure that anxiety is nothing more than a minor problem. All universities will have a counseling service you can utilize (again, that you're probably already paying for).
10. Get Creative
One great thing about college is that you can always get involved in the arts. When you were younger, you probably felt a lot of relief when you were painting pictures, writing poetry, singing or modeling with clay. Do not let these "feel good" activities of your youth just disappear and slip away as you get older! You're likely a lot better at all of these crafts now.
11. Time with People
Yes, some people like their alone time, but it's also important to make time for your family members and friends. This is college, after all – live it up once in awhile! Having a laugh or sharing wonderful moments with each other makes life full of joy. Even if you kind of consider yourself to be a loner, you'd be surprised how fun one or two nights out a week can be. College is stressful – don't try to do it alone.
12. Take Pictures
You might get down about the fact that you can't remember some of the best moments of your life, so take plenty of pictures and videos to remember any good moments that happen down the road. This is a great way to remind yourself about how fun college is/was.
13. Volunteer
Upon seeing the lives that some other people have to live every day, you might realize that your own stress is not really worth it. Furthermore, volunteering can make you feel good about yourself. You have more time now than you ever will to make a difference on a volunteer basis, so make the most of it! Plus – any experience you get will look great on a resume.
14. Power
In many cases, stress is mental. Many find it possible and helpful to simply utilize their cognitive power. Try making the conscious decision not to be stressed out about something, you may find that you can simply avoid the stress by making the decision to.
15. Love A Lot
If you put love out into the environment, then you are almost certain to get it back. Love can make you a much happier person, and ease the most stressful of our moments. Live, laugh and love! You will meet many new and different people while you're in college, so take this opportunity to love as many people as possible.
Ben Martinez writes about education and mental health. His recent work is about the best online psychology degrees.