So I just posted about my little make money online experiment with promoting Halloween costume offers on eBay. It was a big success and if I had started the campaign a little earlier, I probably would have easily broken $200 in affiliate commissions. However, like I mentioned, I had a few issues over the last few days and I wanted to touch on them as they are real problems that you could face if you attempted to repeat this process (with any kind of product, not just Halloween costumes).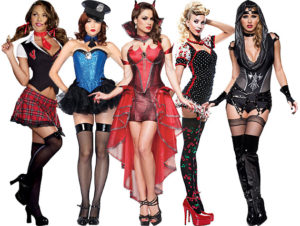 Like I said in the other post, I searched for costumes that did not have many active listings, but were selling successfully for any listing that was up. So this meant that I listed popular items and with any luck the demand would be high. Well, the demand was high. Total, I had 26 costume sales on eBay, pretty damn good for about 72 hours. It was roughly $1000 worth of business in eBay's eyes…to me it was $136.
So anyway, here are the problems I ran into.
With my first few sales, the price I listed it the costume at was too low to cover the eBay and PayPal fees and to cover the actual cost of the costume. I lost between 50 cents and a dollar on 4 sales, not a big deal in the grand scheme of things. To rectify the situation, I increased the listing price and added a a little bit to the shipping price the buyer paid. This then covered the fees and cost of the item and gave me now a small profit of between 50 cents and a dollar on each sale.
I placed 6 orders with one company whose affiliate program I was apart of one night. Then the next day I processed a few more with no problems. However, before heading to bed that night, I went to place a couple more that had sold on eBay…yet they were out of stock! This put me in a panic. I had to search for another company that was selling the same costume for the same price or less AND become an affiliate of theirs immediately to be able to process the orders that night. Luckily I was able to find another website that I could use and processed a handful of orders with them.
The third day my second 'supplier' was out of stock when I went to process another batch of orders. Well shit on me! I was even more worried about it now because I knew these were hot items and finding another website that had a good stock of them would be a problem. Luckily I got approved for another affiliate program with a costume website and I started processing orders.
This past Monday (the 20th) I get an email from the 3rd supplier telling me that they were out of stock of everything I ordered (even though their website showed it was in stock) and that ALL of my orders had been canceled…all 10 of them! I called to find out what the problem was because I placed all the orders on Friday, the 17th and the website said everything was in stock. Well apparently it takes up to 6 hours for the website to reflect the real inventory levels and when the site updated to being out of stock, I had already processed all the orders I had and they could not ship any of the costumes. All the charges I had through PayPal and my credit card had been refunded and all of the sudden I had an extra $600 in my PayPal account. Well, it was a popular costume, and after trying another 6 websites, just to process the orders – even if I could not get affiliate commissions from them, everyone was out of stock.
I had to refund 10 orders…this hurt…bad. Not only did I have to go through and individually refund 10 people's money, I had to make sure they all went through, document the refunds (to make sure I was keeping track of everything), and contact them all to let them know what was going on. I emailed everyone and explained the situation, sent the refunds, and then left feedback on eBay for them all. Some have left feedback for me and I hope the rest will as well.
I still got charged the eBay fees!!!!!! When you refund money through PayPal, you get the fee refunded as well – so if you send me $50, the PayPal fee may be $2, netting me $48. Well PayPal refunds the $2 fee if I refund you the $50. BUT I still incurred the eBay fees for each costume purchase (this is about $4.50 a costume). So, now I am going to be down about $40 because of the stinking eBay fees. It'd be nice if eBay could follow a PayPal refund and then you could 'cancel' a sale within eBay so you are not charged the fees because the transaction was not completed. Oh well. Luckily this is not coming from out-of-the-pocket money, but it will be covered by my affiliate commissions.
SO, if you are thinking about doing this sort of thing in the future, here are a couple tips I have.
Contact an affiliate manager and make sure that what you want to do is alright with them and does not violate any terms or conditions.
Contact the company you want to process orders with and make sure they are alright with you selling on eBay and processing the orders through them.
Make sure the company has enough of the item in stock to fulfill your demand! If you can, get a certain number of the product reserved for you so that you know you have a certain number available to sell. This is the biggest thing I will try to do next time I do something like this.
Good luck if you want to do this type of making money online experiment in the future and see how much you can earn in affiliate commissions. When I do a blog income report at the beginning of November, I will include this affiliate commission amount, but I will figure out what the real number is (my earnings of ~$136 minus eBay fees) to see how well I really did.