You guessed it..it's that time of the month again when everyone starts talking about how much money they made from blogging over the past month and any other statistics they wish to share. So, just like I did in the beginning of June when I reviewed the month of May, I will now review the month of June.
For the month of June, I made money blogging the following ways:
AdSense – $14.41
SponoseredReviews – $38.35
CashCrate – $6.65
Review Me – $30.00
Text Link Ads – $25.06
Blogrolled.com – $7.50
In a nice pretty chart, the total of $121.97 looks like this: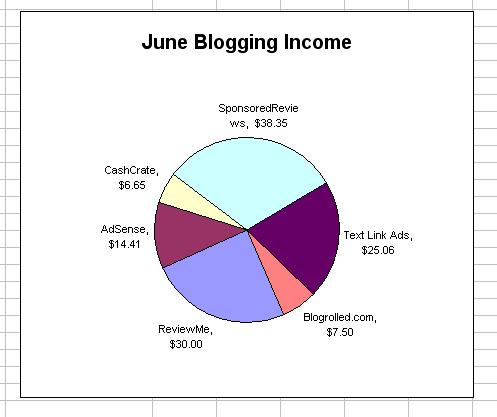 ReviewMe.com worked out to almost be this past month's largest income provider. I had accepted a bunch of smaller reviews (around $10 each) but only managed to complete 3 of them and 1 got canceled before I could make the post. If I had crunched out the another 2 or 3, this amount would have doubled.
The same idea goes with the amount from SponsoredReviews.com, which was the biggest earner. I accepted a few different reviews and applied for others but only 2 were accepted by the advertiser. But, $38.35 is not too bad for writing 2 posts.
The amount that I was not that happy with for the month was my earnings from CashCrate. I personally only completed a survey or two which did not amount to much and the referrals underneath of me earned me about $5.50. If you are looking for an easy way to earn a decent amount of money for an easy task, I highly recommend checking out CashCrate. I have written about it a bunch before as well.
Finally, Blogrolled.com is a new service I signed up for and tested out. The premise of the business is pretty simple – like Text Link Ads and other services, they sell text links on your website. However, unlike other sites where you need to put a widget or code on your site, when Blogrolled sells a link on your site, all you do is add the link to your own blogroll until you are told to remove it (the advertiser cancels).
A couple other facts:
20 blog posts
22 comments throughout the month
Besides Google and direct visitors, Bobbyhash.com and Collegebeing.com were the biggest referrers of visitors for the month.
Most popular posts: