An interesting phenomenon is happening across college campuses. Many more students are showing an actual interest in their success and are taking colleges by storm. There was a recent article in a business magazine that said 7 out of 10 high school students wanted to start their own business, this trend is obviously continuing onto college campuses.
So, what is in the water at colleges and universities across the nation that is turning students from budding alcoholics to successful students and entrepreneurs? From my personal experiences and the stories that I have heard from others, there are a few simple key points to the equation.
1. Background
The backgrounds of students have been having a large impact on their success. We are starting to get into an era where most students parents have at least attended college or graduated. We have started to get out of the time when students were first generation college students/graduates. Because of the educational background that students are coming from, it motivates them much more to be successful in college and everything that they are involved in.
2. Opportunity
Not only are today's students having more opportunities to attend college, but to be successful at school through the options available to them. Fraternities, sororities, clubs and organizations, mentoring, volunteering, work study, the list goes on and on. Most universities across the country (with more than a few thousand students) feature over 150 clubs and organizations that students can get involved in. The opportunity to involve yourself, stand out among your fellow students, and to be successful are well encouraged by this number. Take advantage of every opportunity that comes to you or is available!
3. Support
Not only from your family and friends, but the support of your professors/faculty/staff at your college are very important. Many professors are largely involved with helping their students succeed and will offer them every opportunity possible. Having support of your professors and other faculty when you have a new business idea, want to start an organization, or hold an event is very important. It is because of good faculty/staff support that many students are successful today.
4. Culture
The culture of a university makes a large difference in the success of a student, and a student entrepreneur. Whether an university has a very active and social environment/atmosphere or where students are very inactive/independent, there is something that sparks the entrepreneurs brain cells and gets them running! If the culture of the school is good then student entrepreneurs are bound to flourish.
There are a zillion different things that can affect the success of student entrepreneurs. No matter what the reason may be, there are chances for students to be successful, and that is what matters.
There is a great short story (very short) that I think illustrates the mindset of many student entrepreneurs and why we are so motivated to succeed. This story follows the daily life of a lion and gazelle.
Every morning in Africa, a gazelle wakes up. It knows it must run faster than the fastest lion or it will be killed. Every morning a lion wakes up. It knows it must outrun the slowest gazelle or it will starve to death. The moral: It doesn't matter if you are a lion or a gazelle. When the sun comes up, you better be running.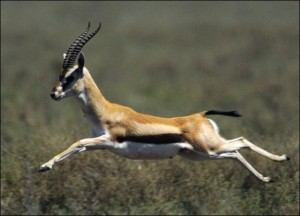 Get running and be successful!