As a guy, it's easy to just slide your wallet into your pants pocket, always having your credit cards, cash, business cards, and ID with you. As a female, you are usually carrying a purse with a bunch more stuff in it. So while the CardNinja won't replace the purse for ladies in many situations, it might help you out on a night out with your girls or certainly make it easier for guys to just carry one item – their phone, rather than a phone and wallet.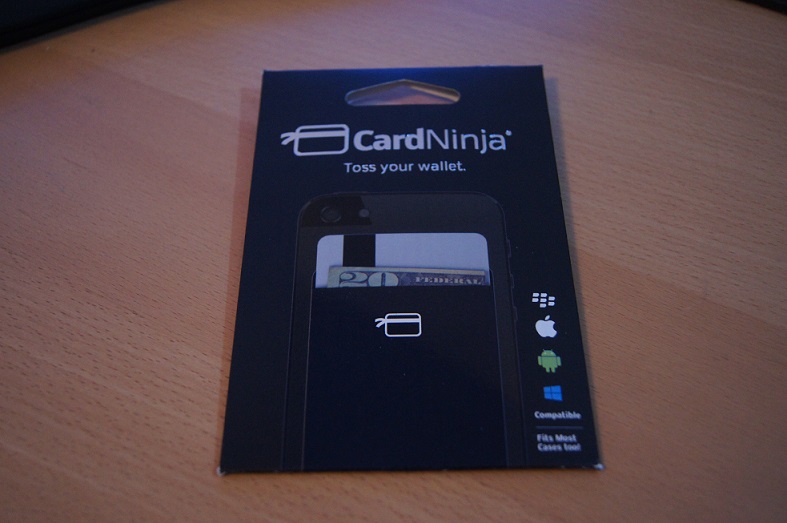 CardNinja is a small flexible adhesive pocket made from Spandex that you can easily attach to the back of your smartphone or phone case.
An innovative storage solution that offers consumers the option to leave their bulky wallets behind. The ultra-slim CardNinja firmly attaches to the back of most smartphones and can hold credit/debit cards, identification, and cash. The unique design is flexible enough to hold up to eight cards and secure enough so items will not fall out even when you flip it upside down
To attach the CardNinja pocket to your phone or case, just pull the plastic sheet off of the back and place the sleeve on your phone in the position that you want it to be placed. It has a pretty strong adhesive, so I'd make sure that you get it in the right spot the first time. Once you pull the sleeve off of your phone or case, most of the stickiness is gone.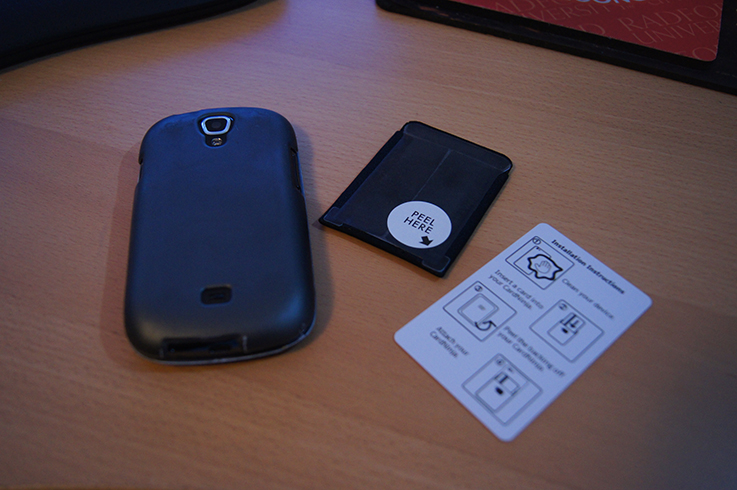 With the sleeve on my phone, I had no issue sliding 8 different cards into it and holding tight. I was even able to add a couple more cards or cash to the sleeve which was nice. However, it did make the phone and case much bulkier.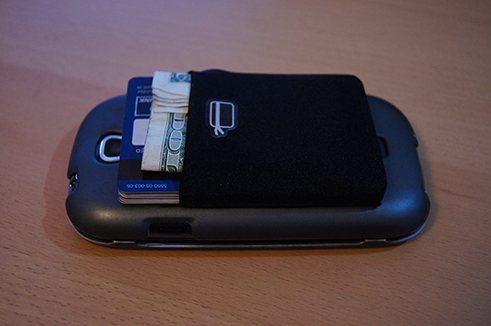 I would totally recommend this to college students, especially women, so that they do not have to carry a purse or other bag to parties or when going to the bar. This makes it much easier to have everything in one package that you can slide in your pants pocket and not have to worry about. However, if you're one of those people who likes to forget their phone or leave it somewhere, then that may be an issue since all your money and ID would be with the phone – wherever you left it…or if someone stole it. So definitely consider the situation in which you would use the CardNinja to reduce what else you are carrying with you.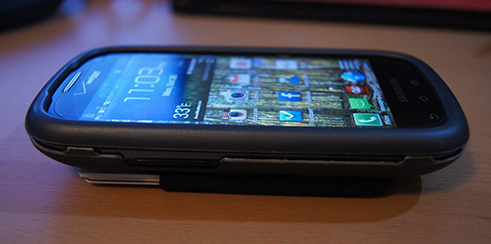 To remove the CardNinja sleeve from your phone/case, you just start peeling up the bottom right corner of the sleeve and peel upwards towards the top until the whole thing comes off. It will probably leave a little bit of adhesive still on your phone or case, so just scrape at it with your finger nail or a credit card and it should come off. The sleeve is on pretty good, so you may have to use a little force to get it off.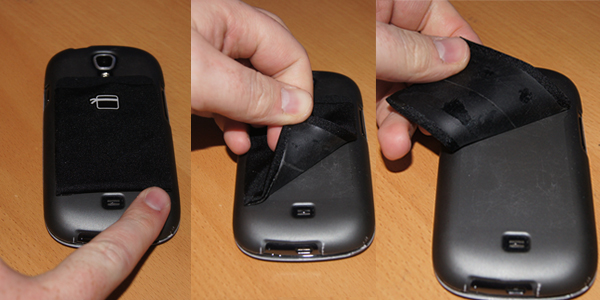 Overall, I think its a cool product and works well for its intended purpose. The sleeve proved itself by holding plenty of credit cards, business cards, and cash while I tried it out. The sleeve did stretch out some after having a larger number of cards in it but it did not affect its holding power when carrying fewer cards.
The biggest problem I had when using CardNinja was just the added height and size that it added to my phone. With my Samsung phone, a full case, and then the CardNinja sleeve with cards, my phone sat almost an inch tall when laying on a desk. This made it tougher to get in and out of pockets rather than just sliding in easily. If you were going to use this long term, I'd suggest either just putting it directly on to your phone or only carrying 2 or 3 cards in it – credit cards or ID. The other problem I had which was really a bigger problem then the added size was that with my phone, in order for the sleeve to not cover the speaker on the back, I had to cover up the light/flash some. So if I wanted to use a flashlight app or take a picture with a flash, I had to remove the cards from the sleeve and then put them back in. This was clearly designed for the iPhone first since it does not interfere with its camera but it is a good option for all phones.
For $19.95, I think I would first look for a phone case that already had a card sleeve integrated into it. I know a few people who have a case like that for their iPhones (it holds 2 or 3 cards) and would be a much better option if you can find a case like that to fit your phone. Causing less bulk carrying your phone and also looking more attractive since it is already integrated into the case design. However, if you can't get a case like that for your phone model, the CardNinja is a good alternative and should work with most phone models.
The CardNinja currently only comes in 3 colors – black, steel, and eggplant. So hopefully you didn't want a fun color!
What do you think? Would you use something like the CardNinja to carry your cards and cash on your phone? Let us know in the comments below!