For professional recruiters and human resources departments, trade shows and jobs fairs can be one of the most effective places to find graduate staff. These allow companies to get out there and press the flesh with potential employees. Finding the best talent is never easy, particularly in the competitive graduate sphere. But by approaching the right universities and colleges for your ambitions, it should be possible to find the right types of people to talk to about jobs in your organization.
There are a number of tactics employers like you can use to find graduates in the jobs fair environment. The first one has to be the visual identity of your pitch on the day. Consider for a moment pitching a stall in a room of 500 different recruiters, each out to source the very best talent they can find for their organizations. You need to be seen to compete with this if you want to employ the most successful graduates. After all, who would want to work for the company with the dilapidated stand and the dodgy graphic design?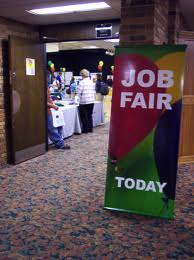 Instead, you need to develop a strong visual identity through your use of signs and banner stands, like those from bannerstandpros.com. These should display your business name, sector and the opportunities you have available – all in corporate colors, of course. This needs to attract attention, and automatically draw the eye away from other, competing stands. Remember you need to stand out, because you need potential recruits to walk by your stand. The more people you attract to your stand, the easier it becomes to have conversations with them about what it might be like to work for your business.
Another strategy these types of events commonly see is promotional marketing. In other words, these stalls give out freebies to students and graduates, in the hope that they will act as a low-cost reminder that they were speaking to a particular employer. These strategies do help spread awareness of your company and any graduate jobs you may have available, although their impact is obviously a little more remote.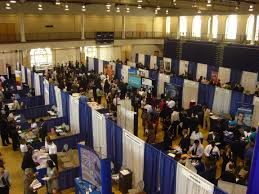 It is really worth investing time and money in finding the very best graduates that are out there. A good graduate will provide you with the raw materials for training and development, and you may even be able to mold a senior manager in the process. Yet the talent pool is limited, and businesses are now needing to fight harder than ever to get their voices heard in the recruitment market.
Banner stands, impressive graphics and a strong visual identity are all key to striking up the right conversations on the day. When graduates do choose to come and speak to you, you have your chance to make the pitch, and possibly secure a high quality staff member that could take your business forward. There is still some distance to go between graduate and professional. But with the right individuals at your disposal early enough, you can train brilliant minds to be the next generation of leaders in your organization.