Can you be a pro bootstrapper?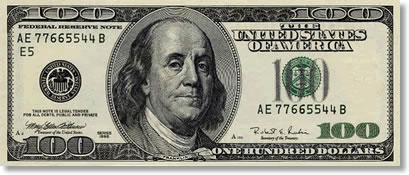 A lot of business classes at my university and many others are all theory based and there is not much real experience involved in them unless you get into a class about starting and managing a small business or some entrepreneurship classes. Yet, many of them still, are based on theory or other people's experiences. So, I have been trying to talk to some different professors about changing their class projects to incorporate something like this concept and we are also going to try to implement it within our entrepreneur club here at Radford.
So, if you had $100 cash, what kind of business would you start? $100 is all you have to do whatever you want with it. Would you buy some products to sell on eBay and keep reinvesting any profits from their sales into more inventory? Would you register a domain name and start doing website development? Or would you use to it advertise yourself as a consultant? What about launching a network of small niche content websites and smack them full of AdSense and different ads? Whatever you do, you only have $100 to do it with until you start making more money from your business.
So, what would you start? I'd love to see some other young student entrepreneurs blog about a business they would start with only $100 and how they would stretch the money to get them to the point of where they are making money.
Get writing! Post a comment with your $100 business start up or a link to your blog post about the business that you would set up.
——
Like what you just read? Subscribe to our RSS feed to keep up to date on the latest posts! Digg It too!