Some of the most successful business people in America come from humble beginnings. For example, they never received any inheritances from wealthy parents or relatives. Additionally, some wealthy business people have never actually majored in business or finances when studying in college. Nevertheless, such people have managed to find tremendous success in certain fields that don't necessarily require being an expert in Master of Business Administration. To make it big in any industry, it sometimes takes a great vision that ordinary business experts can never imagine. Steve Wynn is an example of an American hotel mogul that comes from a humble background without any educational training in business.
In the reality of the United States, perception sometimes plays a major role in the rise to wealth and success. For example, some people change their real names into more Anglican names that would appeal to the mainstream. Many successful business people and celebrities had to change their last names in order to gain widespread popularity and cross any cultural barriers associated with a certain ethnicity.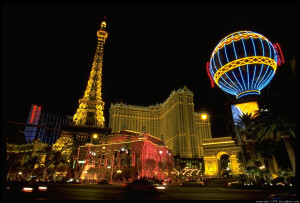 The hotel industry is one sector of business that has been developed tremendously by investors without much previous experience in the hospitality business. For example, Las Vegas has risen from a relatively shady gambling mecca into a world class tourist hot spot. Successful real estate developers have invested in new hotels and resorts on the Las Vegas Strip that would attract flocks of people that want more than just gambling. In fact, the casinos are not always the main attractions in some of the major hotels in Las Vegas.
Entertainment is just as popular as gambling in Las Vegas. Many hotels have their own shows that entertain audiences on a daily basis with magic, comedy, music, dance and other unique performances. Exclusive theaters add a new element into an all inclusive hotel in Las Vegas. These days, guests can expect to get the full experience of lodging, dining, relaxing, entertainment and gambling in top Las Vegas hotels. The vibrant nightlife of "Sin City" has been revived thanks to wealthy hotel and resort moguls that understand the need for tourists to have a good time. Onsite lounges and discotheques make up the chic night clubs of Las Vegas. Some of the venues are exclusively reserved to hotel guests as other visitors may have to pay premium entrance prices at the door.
Extreme measures have been taken by hotel moguls to attract as many tourists as possible to the Las Vegas Strip. For example, entire shopping malls in underground complexes are part of major hotels and casinos in Las Vegas. Guests don't even have to leave hotel grounds to shop for designer apparel and jewelry. By the same token, upscale dining has been brought right to the hotels and resorts in Las Vegas. The traditional experience of going out to eat a fine meal has been transformed into an onsite dining pleasure. Wealthy hotel investors have established entire collections of fine wine and other spirits that have been imported from all over the world for hotel guests to enjoy. Free perks and giveaways such as wine tastings surely give any upscale hotel an image boost. Hotels also understand the need to sometimes give away free services such as limousine rides to the local airport or around the city.