One of my biggest problems as an entrepreneur is keeping my desk and office organized and clean. Since I have a number of different business going on at the same time – this blog, outdoor gear online retailer, selling on eBay, and more – I have a lot of paperwork. It could be anything from emails from clients, receipts for business expenses, shipping labels, invoices for equipment, and much more. With all of this paper, files, and then general office stuff (pens, stapler, etc), my desk looks like a bomb went off. Seriously, the below picture is of my actual desk a week or so ago.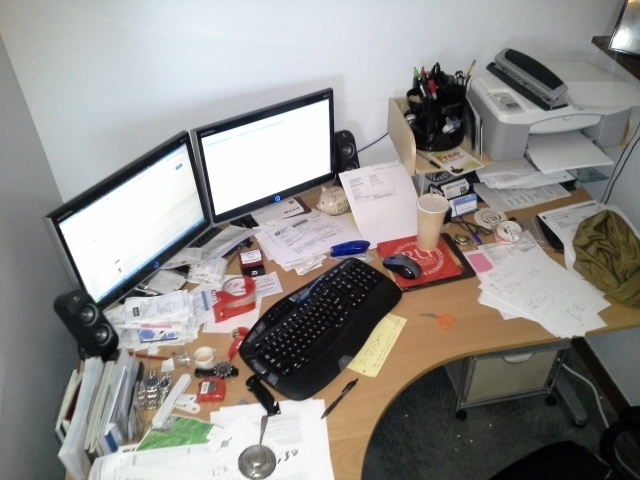 One thing to help clean up the clutter I have consider is getting one of those small paper/receipt scanners so that I can keep an electronic version of everything and start getting rid of the paper. When it comes to services for online file sharing, collaboration, and document storage, there are dozens of options. One of the best that I have seen so far is Zoho Docs which helps you create a paperless office.
They have a ton of different features like:
Online office apps – word processing, spreadsheet app, presentation app – very similar to Google Docs or MS Office. I Use MS Office enough that I wouldn't want to convert to an all online approach for these tasks.
Document management – Zoho lets you set up multiple levels of folders, keep track of version history, and allows for full text searches.
Online File Storage – Zogo allows you to upload files or folders, complete bulk uploads and also email attachments directly to your account.
File sharing and online collaboration
Plus is it is mobile friendly so you could access it from your smartphone or iPad.  There are also a ton of other features like integrating with Google Drive, tag management, and more.
If you are thinking about going paperless for your office, or even just a small piece of your business activities, add Zoho Docs to your list because I think it's probably one of the best full service tools out there.
This content is a paid review. All opinions are 100% that of the author and are not influenced by being compensated for posting this review.