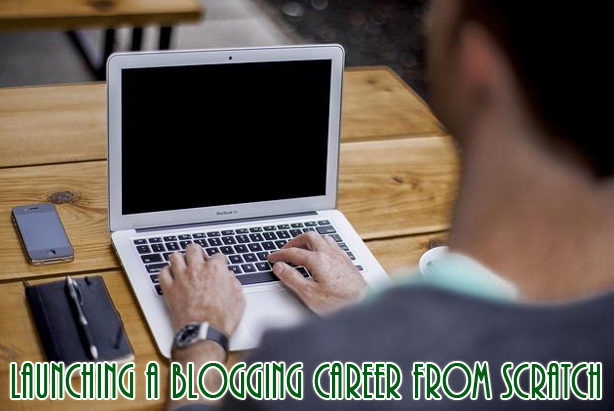 Blogging is the latest career that people are desperately looking to get into. There seems to be this glorified idea that blogging means easy money and little work. People envision being able to sit at home all day, doing whatever they want and magically earning money. Sadly this is just not the case. No matter how much most of us wish, it was! The truth is, a large percentage of us have been blogging for years and making a living. Working hard to grow your blog and spending years cultivating the perfect posts and topics to engage an audience is full-time work alone. There really is no 'quick-fix' for starting a career as a full-time blogger, but there are some significant steps you can take. These will see you get started on the best foot and can lead to making your career as a full-time blogger a reality.
Where to start? A good place to start is to think about what you are passionate about. Blogs that succeed are usually those in which the owner cares about what they write. For example; if you are an expert in graphic design then why not start a blog aimed at designers? If you are obsessed with fashion and beauty, then start a beauty blog. The blogosphere is becoming hugely saturated with blogs and websites though, so you need to think about your ideas carefully. Is your blog going to be unique and well written enough to make an impact?
Think like a business. If you are planning on making this a full-time career then you need to think like a business from day one. Looking into westlondoncollege business courses could give you a head-start in learning business basics. You need to keep clear and concise records of your incomings and outgoings. Keep them written down in a notepad or create a spreadsheet online for them to be stored. You should also register as self-employed for tax reasons. Your earnings may not be much at first, but planning for success will motivate you to try harder.
Sponsored posts and paid advertisements. These are one way to begin earning from your blogging. Some companies will often pay you to write about your products. This won't happen from day one though. You need to have a very high amount of traffic and be able to prove your stats. Companies want exposure for their brand. Having this gives you good leverage when it comes to asking for payments. It is a good idea to keep a close eye on your analytic stats and ensure that you have those figures handy for when a company gets in touch. Know your blog and know your business. If you are realistic about your expectations from the start then success is more likely.
Content is key. Content is key! It honestly is. You have probably heard this hundreds of times, but that's because it is one of the most important things to remember. Content must be of high quality to keep your readers coming back for more. You need to have plenty of articles and blog posts for your readers to browse through. Keep your blog posts to at least 500 words. Blog posts of a few paragraphs will just frustrate readers and not serve any value for your search engine rankings and SEO purposes. If you can't create enough content yourself, then why not employ someone to write for you? You could even enlist the help of a friend.
Full-time or part-time? Most bloggers start their career on a part time basis. It makes sense to keep your day job at least until you are making a reasonable income from your blog. You should look at options like google Adsense and affiliate links to bring in a regular income quicker. Before you rush off and quit your job, you should ensure that you are 100% serious about a career in blogging. Consider whether you can get to all of the blogger's events you'll be invited to. Most of these are hosted in London. Factor in travel and transport costs for these. Not all companies will cover expenses. The early days are tough. Do you have a backup plan if it all fails? This is a sad but realistic consideration of the business. You should also think about whether you are in a position to pay your regular outgoings from blogging income alone. Rent, bills and basic necessities will need to be covered regardless of what your finances are.
Stand out from the crowd. Take a look at other bloggers in your niche. Why are they popular? You should do your research first and find out what works and what doesn't. Which posts have a lot of comments and interaction and which don't? You should then use this information to create your own unique and original posts. Copying is not cool! You want to market yourself as unique and trustworthy. This means coming up with creative ideas. You can use other places for inspiration, but that's it.
Scheduling posts. Scheduling your blog posts is important. What happens when you want to take a holiday? Can your blog survive without you there? If you schedule your posts in advance, they will self-publish, and your site will remain active. This is perfect for blogs with a regular reader base. You should also begin to think about your possible posts in advance. Come up with some titles and concepts and plan them on a monthly basis. This will mean that you are never short of ideas or inspiration. Think about monthly themes and upcoming public holidays and create posts around them.
With all of this in mind, you might just be ready to give blogging a go! Everyone has to start somewhere. With a little bit of determination and a lot of effort you can do anything you want. If you start without too much risk and use a free platform like WordPress or blogger, you can always upgrade when things start to really take off.