One of the things that entrepreneurs don't like is sending out bills. Whether it makes you feel greedy, like an asshole for trying to get paid, or just bad for charging what you're charging, it's usually not fun. However, on the other end of it, getting paid is great. The catch is this: without invoicing a client or customer, you can't get paid.
Now, we look for a solution. Enter – GreenerBilling.com. You've seen them advertising here on Dorm Room Biz for the past couple months. They have recently released an updated website and features, so now it's time to share more about their service with you all.
GreenerBilling.com's main philosophy is to meet the needs of an accountant but from the eyes of an entrepreneur. The site and service are built that way, focusing on what fits your needs as an entrepreneur when you need to bill someone.
GreenerBilling.com allows you to:
Create Estimates & Invoices
Track Your Payments
Schedule Automatic Invoices
Manage Client Profiles
Allow Unlimited Users
Customize All Settings.
Now, I know many of you have probably tried services like FreshBooks and all the similar ones, I know I have, but I have to say that I like GreenerBilling.com the best and am extremely happy to have come across it.
With the release of their consumption based plan, they are even more affordable to use then some of the other services. This pay as you go model allows you to sign up for free, get a couple free invoices sent to test the system, and then pay just $0.50 for additional invoices.  You can also manage an unlimited number of clients within "Dirt" plan…as in Dirt Cheap. Get it? If you find yourself needing more flexibility, sending more invoices, and really utilizing the service, then upgrading to the Seedling plan for $15.00 is definitely worth it. Many other services start at that price for just the beginner package!!!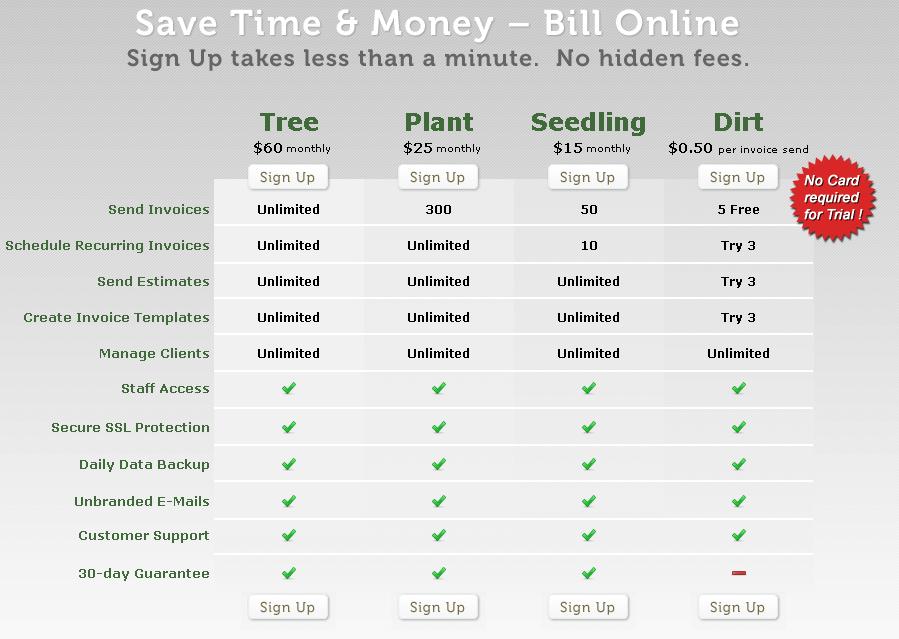 Even More Features To Come
Over the rest of the year, there are another 20+ updates and additions to GreenerBilling to come. Here are just 5 of those to wet your whistle.
Message Center – This will allow you to customize all of your message templates to fit your business, logo, and colors.
Statements – Lets users send statements to their clients showing a summary of their previous invoices, what's paid and what's due, etc. A great benefit on the side of the client to see an outline of what's been paid and what's owed.
Client Access – this is what I'm most excited for. This will allow your clients to access their account online, see their invoices, see any estimates, or bills that need to be paid, and even PAY THEM ONLINE. On top of that, if your client uses more than one provider that utilizes GreenerBilling, then they can see all of their invoices (from multiple suppliers) in one portal area. Sounds pretty cool huh?
Time and Mileage Tracking – Sure you can invoice your clients for 5 hours of work at a rate of $50 but why not have that be more precise to 5.15 hours rather than your rough estimate? With this feature you'll be able to utilize a time clock type feature for accurate billing. Plus, you'll be able to easily invoice your clients for mileage traveled.
Data Export to QuickBooks – While GreenerBilling will handle your online and on the go billing needs, maybe small businesses still use QuickBooks or similar software to take care of the rest of their accounting needs. Soon, you'll be able to export directly from the GreenerBilling website and into QuickBooks to have everything synchronized.
GreenerBilling is utilized by subscribers in over 50 countries and 45 industries. Are you ready to get on board?