For all the readers out there that are still in college, this will appeal to you. College Scholarships (www.collegescholarships.org) has released information for its $10,000 Blogging Scholarship. Here are the quick and dirty details for those of you who may want to submit an entry.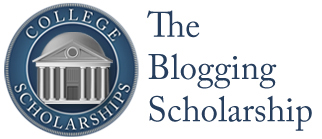 Important Dates:

Submission Deadline: Midnight PST on Oct. 6th
10 Finalists Announced and Public Voting Begings: 9am EST on Oct. 8th
Public Voting Ends and Winner Declared: Midnight PST on Oct. 28th

Apply Today!

There is a 300 word limit for this essay. Like great blog posts, short and interesting is preferred over verbose. Use any of these questions as the basis for your scholarship essay:

If you nominated a friend, what makes them and their blog so special?
What is the most interesting or inspiring blog post you have ever read? Why did you find it inspiring?
How have you used blogging to help yourself or others?
What is the most powerful social change you have seen come out of blogging?
Why did you start blogging? What does blogging mean to you? Why is blogging important to you?
Check out the full details of the blogging scholarship at the College Scholarship website.