As many of you know who have been following Dorm Room Biz for a while now, I am an outdoor enthusiast and love to get out onto the trail as often as I can. I have launched a few different outdoor focused websites over the last couple years but I have not been able to focus on them as much as I wanted due to school work and other factors. However, now the time has come, to launch a brand new site that will hopefully become on of my flagship internet properties.
************************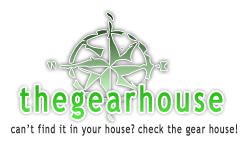 With that, I would like to announce the official launch of TheGearHouse! TheGearHouse is going to focus on providing information on outdoor gear that hikers, campers, and outdoor addicts like to use. On top of that, we will be providing you with gear reviews, helpful tips, trail reviews, amazing outdoor pictures, a spot to buy the gear we review, utralight gear options, and much more.
What's the reason for the site?
Well, I simple love the outdoors and getting a chance to go hiking, camping, rock climbing, and any other activity that doesn't kill me. With graduation quickly approaching (just over a month left) I know I will have some more time to get out outside to do these things and I wanted a place where I could share the experiences, review the gear that I am using, and help others to find useful information. Of course the idea of making a little bit of pocket change on the side from the site is always good as well.
How will I generate income?
The main income generator on the site starting out will be the AdSense ads and the affiliate ads/links. On top of this, however, I hope to grow a nice "gear shop" that will link to outdoor gear that I sell on eBay through Radford Auctions and then with their new affiliate program, I will also be able to drive my traffic to eBay that way to find great gear deals.
I would love to hear your feedback on the website. The site is powered by WordPress and the theme is based off of Adii's WP-Polariod theme that he released last year. I spent a good amount of time trying to make sure that I caught everything with the theme, so please let me know if you see anything.
Check out the site and leave a comment with what you think!