The other day I received a nice little package of custom business cards from TinyPrints.com so I wanted to run through my experiences in working
with their site and share the different products that they offer. When you think of an online printing company, you immediately think of stationary, business cards, signs, labels, etc. While they do offer many of those "normal" printing services, TinyPrints also has a wide range of other offerings.
Their printing services range from all kinds of invitations (baby shower, birthdays, parties, weddings, etc), announcements (weddings, graduation, moving), all kinds of baby & kid related items, and holiday gifts. Items like custom printed labels on mint tins are not something you find at every online stationary printer.
Ordering Business Cards
Like I mentioned, the only service I have experience with is ordering a set of business cards, but I am going to guess that the other print services are the same.
I started originally wanting to upload my own design – sounds easy right? Well, no. Unfortunately, TinyPrints does not allow you to upload your own custom design like most other printers. I had a business card design that I created in Adobe Photoshop and had printed at other places but wanted to try it through TinyPrints but could not.
So, than I had to switch directions and pick from one of their premade designs to customize with my information. Once I found a design that I liked, it was very simple to add in my information and quickly complete my order. Now, while you cannot upload a completely custom card design, you can upload different elements to your card such as your own logo. Some of the templates are set up to have a picture of you in which case you can upload a photo and edit it for use on the card. This was good to see and is a nice feature to still be able to personalize the cards more for your business or brand rather than just having a plain text card.
Most online printers offer your standard vertically and horizontally printed business cards. TinyPrints.com has those and many other options too. If you're looking for something a little more unique then a normal card, check out some of the options they have – folded cards and different size cards.
25 cards for $23.50? Isn't that a bit expensive?
This simple answer is yes. There are plenty of options when using a printing service online that offer some rock bottom prices and offer all kinds of additional services and features as well. At almost $1 a pop, these little cards are pricey, especially for not being able to upload your own custom design. When you think about the price your paying for the cards though, it is important to consider a couple points.
First, the shipping time is pretty quick. With some of the other online printing services, you have to wait weeks for your cards to just be printed let alone shipped. I ordered from another service a few months ago and the wait was 4 weeks just to have my cards and banner printed.  It appears that the standard shipping service for TinyPrints has the cards arriving in about a week to a week and a half from when you order.
The minimum order quantity is only 10 cards. Then you can order basically in increments of 5. Other sites, your minimum order are usually 100 and can often times be 250 or more. With a higher quantity, they are obviously going to be able to charge a lower price. But when you only need a small run of cards, invitations, or other items, TinyPrints is offering that service and you are going to pay a premium on such small orders.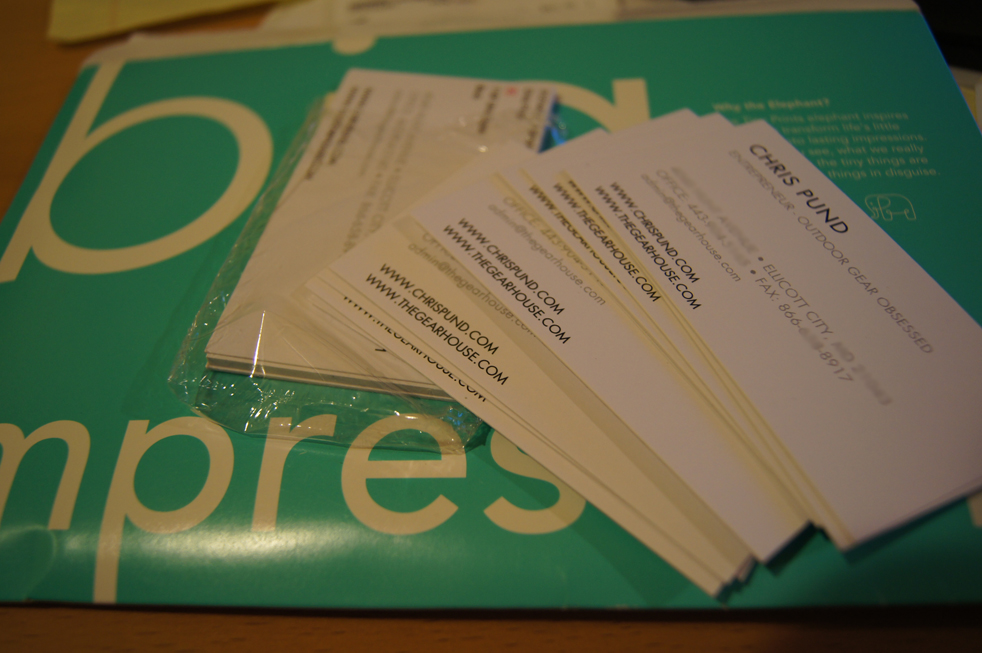 Finally, the quality of the cards is great. I've ordered from 3 other websites and also the printing service at my local Staples store. The cards are always much thinner and sometimes the printing is a lesser quality than how my cards arrived. The card stock for the cards is a nice thickness and corners are not easily bent when in pockets or your wallet.
So while the cards would be expensive, the quality and turnaround time is great so there is a trade off. Either way, my experience with these guys was good and I'd recommend them for small printing runs or definitely for the other services like baby announcements and invitations as their designs looked great.
Have you used TinyPrints.com? Share your experience in the comments!
Disclaimer: TinyPrints.com sponsored the business cards for this review. The opinions in the review are 100% of it's author.