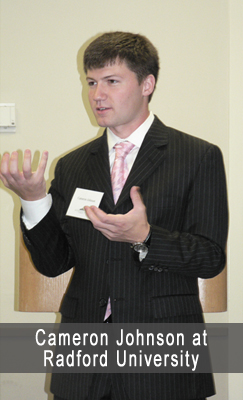 So after attempting to read Cameron Johnson's book for the past few months here and there when I had the time, I have finished it (reading most of it over winter break). So, the following is my review of the nicely written and easy to read book.
About Cameron (adopted from Cameron's website)
Cameron Johnson started his first business at the tender age of nine. By age 12, his company was selling Beanie Babies over the internet and he netted $50,000 that year. At the age of fifteen, he became an advisory board member of a Tokyo-based company and published his autobiography in Japanese which became an instant bestseller.
At the age of 23, Cameron has founded and sold more than a dozen successful businesses and has been featured in more than 250 media outlets worldwide including Newsweek, BusinessWeek, the New York Times, USA Today, CNBC, ABC, and MSNBC. He's served as a consultant to several Fortune 500 companies and is a frequent speaker to a wide-range of audiences including corporate audiences, entrepreneurial boot camps, even high schools and colleges.
In January, 2007, his new book titled You Call the Shots: Succeed your Way – And Live the Life You Want – With the 19 Essential Secrets of Entrepreneurship was released by Simon & Schuster and is available in stores worldwide. Cameron resides in Roanoke, Virginia.
Book Description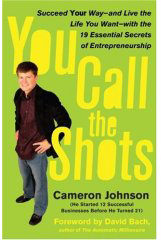 Why work for someone else when you can call your own shots, pursue your dreams, and find success on your terms by starting your own business? So many people end up bored with their jobs, stuck in the corporate grind, never following their true passions. As wildly successful young entrepreneur Cameron Johnson shows, you don't have to live that way. We've entered a new age of entrepreneurship, with the Web making it easier than ever to start and run your own company. As Johnson's remarkable story reveals, the entrepreneurial way of life is a great way to make sure you love what you do — and it offers the potential to achieve extraordinary success by following your gut instincts and going for what you really want.
What about the risks? Don't you need lots of money? Don't most start-ups fail? Johnson shares his essential secrets to entrepreneurial success that show you how he got into the life at very low risk, and, with very little money, took an idea that excited him and ran with it, achieving great success and satisfaction with businesses he loved. He didn't have an MBA; he didn't even have a college degree. But he had learned the simple yet vital secrets he reveals.
Cameron Johnson is a seriously happy entrepreneur who started his first business when he was nine with $50 and a home computer. Before he'd turned twenty-one he'd started twelve successful businesses and was offered $10 million in venture capital to grow his hot Web company CertificateSwap.com — praised by Entrepreneur magazine as one of the Web businesses helping the tech industry get its groove back — even bigger. He has never taken out a loan or racked up any debt, and every one of his businesses has been highly profitable — so profitable that he made his first million before graduating from high school, and he's put away enough cash so that he could retire today. But that's the last thing on earth he'd want to do; he's much too happy starting up new companies.
Through the story of his own impressive career so far, in You Call the Shots, Johnson takes you behind the scenes of entrepreneurial success and empowers you to hit the ground running with your own great business idea, no matter how young you are or how little money you have to invest.
—-
So there is the background on Cameron and the book, my review will be following shortly, I didn't want to have a extremely long post, so I am going to break it into two. Subscribe to my RSS feed to be sure that you get notified when the second part, with my actual review, is posted!