This past week I had the chance to meet and hang out with some amazing college bloggers. Now, I don't believe I should be holding out on sharing these websites with you all, so below, you'll find 7 awesome websites for college students about life, school, fashion, and everything else from some really great folks. Check them out and subscribe to their sites.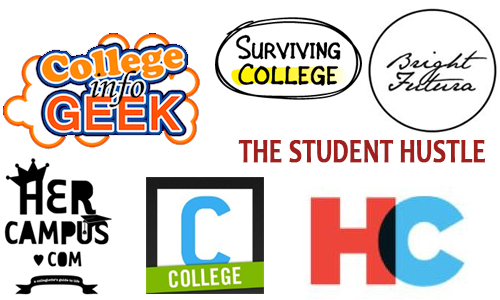 College Info Geek – This site is different from other college websites mainly because of the sheer size of the articles posted – 11,000 words! I say again, 11,000 words! Grab a drink and set some time aside to read through Thomas Frank's posts because they are worth it. Whether it's a laptop review, instructions on building a floating loft bed, or just a random rant on college life, you'll enjoy checking out CollegeInfoGeek.
Surviving College – Dorm life, Academic Life, Party Life – if you need to survive it, Surviving College is a great place to start. This site will help you figure out college in real time so that you are not just getting the hang of hangovers and 8 AM classes when it's time for Graduation. Another huge area for students is budgeting and finances – check out the Surviving College site for some great tips to get you AND your wallet through college.
Her Campus – HerCampus.com is probably the most popular college related blog written specifically for the ladies stumbling around school. On HerCampus you can find nationally relevant content related to style, life, love, and health. But then you can also find local content from around 200 campuses. The site was founded by three women at Harvard – two graduated and one, Annie Wang (who we got to meet in San Fran) is taking a break from school to run HerCampus full time. Read more about the Founders to see their features in major publications like Inc. and BusinessWeek magazines.
College Magazine – College Magazine is a site filled with articles for students by students, set up to be a daily guide to college. Started in 2008 by University of Maryland graduate, Amanda Nachman, College Magazine now features a group of editors mentoring over 40 writers, bloggers, and photographers from universities nationwide. Daily topics include college life, dating, pop culture, sports, and employment tips.  College Magazine is jammed packed with great articles and something for everyone! Originally started as a print magazine, CollegeMag is now all online. While in San Francisco we got to hang out with Amanda and Josh (Social Life Editor).
The Student Hustle – While this site is brand new, Bobby Adamson is a hardcore hustler. His enthusiasm, drive, and passion for helping others succeed are going to take him places and you'll want to be a part of his site so that you can say you knew him before he became a "big deal". Do yourself a favor and subscribe to The Student Hustle!
Bright Futura – With an awesome name like Maximillian, awesome is exactly what you can also expect from his website. Whether its college news, products reviews written by students, advice, or just fun articles, Bright Futura is a site worth subscribing to or following on Facebook. You'll find good articles taking an in depth look at the business of Amway, cool apps to download, and much more.
HackCollege – Edited by Sarah Feng, HackCollege is another college content focused site that is loaded down with some really awesome content? With the tagline of "Work Smarter, Not Harder" You'll find lots of articles about hacking your college life, living better, being more productive and even eating more healthy. Make HackCollege one of your daily reads for sure!
What are your favorite college content related websites to check out? Besides Dorm Room Biz of course!