Summer is just getting started…so you're not exactly thinking about going to back to school already are you? Well, here's something for you to consider when the time does come to pack up your room and hit the road to the dorm. The Dorm Douche Kit from DormCo helps prevent you from being a douche-bag roommate. At first, the name made me think it was a kit to help you be a douche, not prevent it, but once I read more about it, I found out it's a preventative measure.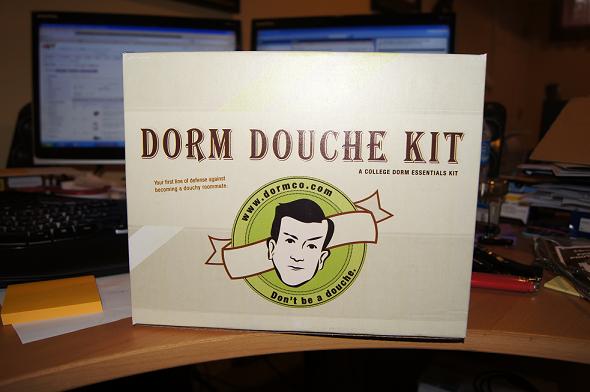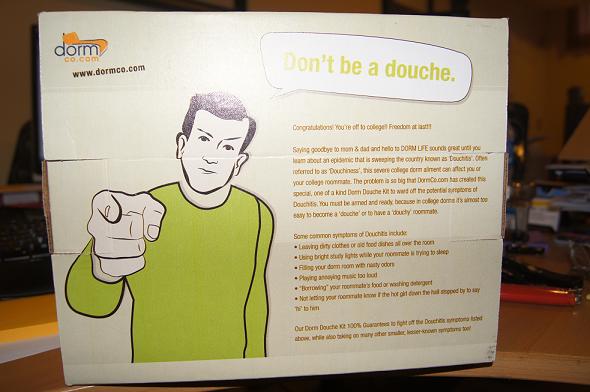 So, what's the Dorm Douche Kit? As the title suggests, it's a pre-assembled kit of items and products to help you not be such a jackass to your roommate. There are three different kits, I suppose based on how much of a douche you are and the seriousness of the level of prevention you need.
The classic kit is the one that I received to take a look at, so that's what I am going to share with you, however, if you think you fit the criteria to upgrade to the larger kit, you can find its full contents on the DormCo site.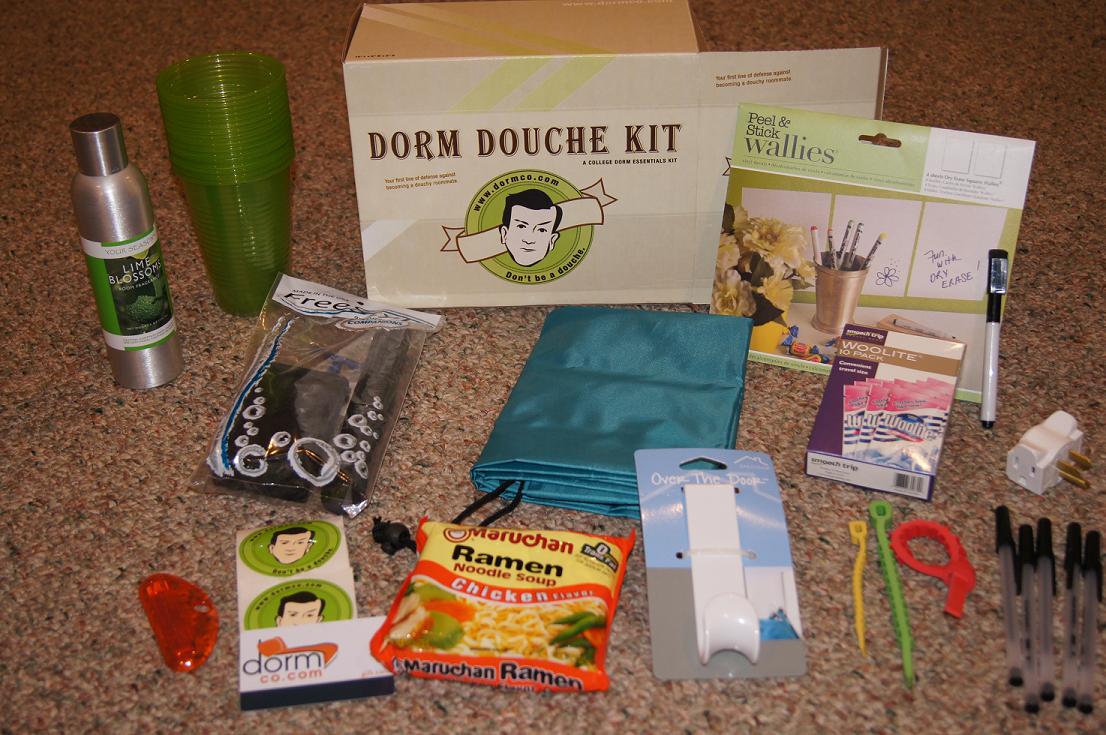 In the Classic Dorm Douche Kit, you'll get all of the following items:
Laundry bag
Rubber cord wrap/ties
5 Pack of Pens
Over The Door Hook
Ramen noodles package
16 plastic cups
$5.00 DormCo.com Gift Card
"Don't Be A Douche" 10 pack of stickers
Overall I think the kit is a cool idea as a gag gift for a friend or roommate who might have turned out to be a douche once you moved in with them. It's a slight hint at "Hey dude, clean your shit up and stop stealing mine" without having to say it directly to them. The contents are pretty well rounded out and would certainly be useful for any college student.
I remember always having to buy an additional surge protector for what seemed like every outlet in my dorm room, so things like the Hug-A-Plug outlet splitter are really good additions and truly useful items. I also always hate throwing away that extra bit of toothpaste in the tube so the Squeeze It is an excellent addition – and money well spent in general if purchased separately.
Things they could have skipped? Probably the toothbrush holder and the pens. Stickers? Really? I mean, I get the marketing advantage to throwing them in with the package, but unless you buy the kit for your roommate and throw the stickers all over his stuff, they are just going straight to the trash.
The gift card to the DormCo website is also a nice little extra to entice me back to the website for another purchase.
At DormCo's site you can buy tons of different stuff for your dorm room – everything from bedding, rugs, and decor to room organization, study aids, cooking accessories, and posters. Definitely consider checking out DormCo when you get ready to head back to school and consider picking up the Dorm Douche Kit for your roommate as a welcome present!
Disclaimer: This item was provided to us for review by DormCo. The opinions in this post are 100% the authors and not influenced by having received the items at no cost.