Hey Folks! Here's a great chance for you to enter a contest and pick up a sweet prize – $10,000 in cash! It doesn't get any better than this. Keep reading for the details and to learn about the challenge from our friends at Adobe.
Say it. Do it. Show it. Just be you.
Enter the Imagination Challenge and you could win up to US$10,000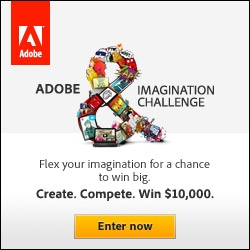 Here's the deal: Our friends at Adobe are running a contest called the Imagination Challenge. All you have to do is show off the power and depth of your imagination using Adobe® Creative Suite 5.5 Student and Teacher Edition software. Don't have it? No sweat, download the free 30 day trial.
Adobe is trying to find out what inspires you, what motivates you, what gets your imagination going, and how you express yourself. If you're interested in entering, you can submit a picture, a video, a PDF document of a poem or story you wrote, a song…just about anything you could pull together using the Adobe Creative Suite. There are 5 chance to win the big $10,000. The first and second rounds are already done and there are a few days to still enter the third round. The fourth round of entries starts on Oct 1st.
To check out the current entries, find out the rest of the entry details and rules, or to vote on the current round, head over to the Adobe Imagination Challenge website.
Even if you do not want to enter the challenge, I highly suggest checking out the Creative Suite 5.5. Adobe has always had great products, and this suite is no different. Between Photoshop, Dreamweaver, and everything else the opportunities to create are endless.
If you like the free trial enough, then you're going to love the discounted Student/Teacher rates for the programs. As a student or teacher, you receive 80% off on the different programs!! Check out the Adobe site for full pricing.
Full disclosure: Adobe supplied me with a copy of the Creative Suite for use and review. All opinions expressed here are mine. More reviews of the actual products including Photoshop will be forth coming. In the meantime, definitely check out the Imagination Challenge.