Today we have a great interview for you all with Anthony Adams who is the creator of The Hangover Cure! Enjoy!
******************
Hi Chris, thank you so much for having me here today. I graduated from Texas Tech University in Lubbock in 2006 with a degree in marketing and spent the next two years doing sales for a very large computer/tech company here in Dallas. I currently run a dietary supplement company, Apollo Nutrition LLC. Our flagship product is THC-The Hangover Cure.
1. Now that we know a little bit about you, let's find out some more about your business. When and why did you decide to start THC – The Hangover Cure? What promoted you to make the leap?
I founded my company in February of 2009. Like a lot of people I know, I was laid off in January, took a month off to evaluate where I was in life, and then decided to make the leap by forming a limited liability company and creating my product, The Hangover Cure. I always planned to start my own business at some point and I figured there was no point in putting it off any longer with the amount of free time I had been given. I think I was pretty disenfranchised with working for other people at that point, so I looked at being laid off as a great opportunity, as I probably wouldn't have voluntarily quit my job with the way the economy was going. My actual 'aha' moment for the product came to me in college, but I had been putting it off in favor of a career up until being laid off.
2. There are many similar products to THC on the market, which claim to cure hangovers or help reduce them. What makes THC stand out from the rest? Is THC more affective/better than the others?
It occurred to me while in college that there really wasn't a hangover product that was marketed correctly. No one came up to me in the dorms and mentioned an existing product as a good cure, nothing had a 'cool' factor to it. Competing products sell in health food stores and gyms; they are being marketed to the wrong audience. Our product sells in liquor stores and bars, it's just a logical extension of what's already for sale. I look at the success of Red Bull; most people who drink it don't care what's in it, they like it because it gives them energy and it makes a great mixed drink. They drink it because it works. That's what I wanted to create; a product that is geared towards people who actually need hangover help in a genuine way. So our marketing strategy is geared towards that demographic. I will gladly put The Hangover Cure's formula up against anything on the market because I know we will win, it's literally the most potent nutritional drink on the market today. And that's where those hangover pills miss the mark; they don't help rehydrate you after a night of drinking. If you aren't re-hydrating and replenishing your body, you will have a hangover. So yes, I would say our formula is the only complete hangover prevention product on the market today.
3. With the business being less than a year old, what's been some of the biggest challenges that you've had and lessons that you've learned from them?
Early on, it was convincing my family that I was committed to making this work. They saw it as more of a hobby and were probably worried about me not finding another 'real' job. I've learned that you have to be vocal with your family about what you are doing, especially with online business, which a lot of people simply don't understand. I've also learned to keep a level head. The nature of my business is full of highs and lows, so I have to remind myself that no matter how good or bad a situation is, it can change at any time. It's fleeting.
4. A question a lot of young entrepreneurs ask is if it is necessary to have a formal written business plan in this "day and age"? Lots of the "way things used to be done" mentalities are being shattered by younger entrepreneurs.
I think it's crazy, especially with a primarily online-based business, to try to predict with any degree of certainty how you will be doing business in a few years. My business plan is pretty simple: Create a good product that people like, sell it, and maintain strong relationships with existing customers and distributors. That's it. Everything else is secondary. Focus on tasks that generate revenue. It's timeless.
5. You mentioned in your first email to me that you have distribution on 5 continents, which is awesome. How were you able to accomplish such a feat so quickly?
I wish I could say there was some secret formula to it but there really isn't. The international interest we have received so far has been incredible and beyond anything I had expected starting out, which again shatters the notion of a formal business plan like you mentioned earlier. I think it's much more important to be flexible and able to adapt to whatever comes your way than to stick with an outdated plan. But to answer your question directly, entrepreneurial minded people from all over the world seek us out online, which is a huge compliment.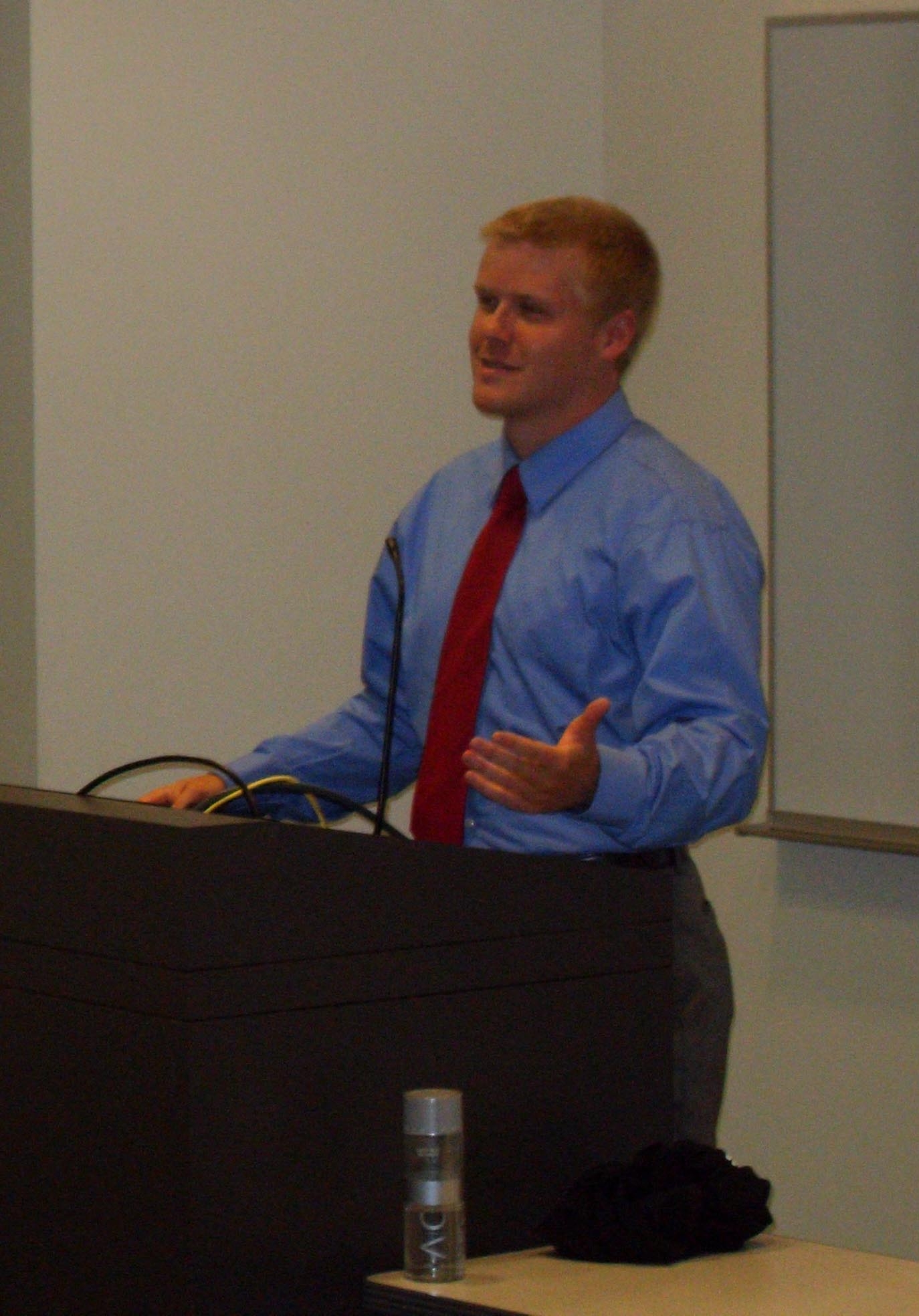 6. Social Media is a major buzzword and trend right now. How are you utilizing communities like Facebook and Twitter to market THC and build your business?
Every business needs a presence on Facebook and Twitter to stay connected with its fans. I've noticed companies like vitaminwater, Sprint, and TJ Maxx advertising their Facebook and Twitter pages on TV ads instead of their official sites, which I find fascinating, because those companies get it. At the same time, a company like IBM doesn't even have an active Twitter account, which I find a little ironic. I live on Twitter, I think it's a fantastic resource for business. I've had a lot of success contacting bloggers on Twitter and asking them to review my product. I then use these free and unbiased testimonials and blog write-ups to highlight my product's credibility. Bloggers get to write good content on a new product and I get free advertising, so it's a win-win situation. Also, we were the first company I have seen to add real tweets from satisfied customers to the THC testimonials page instead of static, unverifiable text. That's helped add further credibility to my product as potential buyers could actually tweet at the customers mentioned on my testimonial page raving about The Hangover Cure to verify that yes, these are real people who like what we sell. But I don't obsess about how many Twitter followers we have or anything like that, it's a hollow number. I would rather have 50 followers who are actively involved in the brand than 10,000 followers who never interact with us.
7. You've obviously seen some success so far and are stationing your business for future success too. What tips to being successful as a young entrepreneur can you share with our readers?
Don't be afraid of failure. No business is perfect and you will fail a lot, especially starting out. As long as you don't get discouraged and learn from your mistakes, you are on the right track. The real world is a hell of a teacher and I have learned so much from failing until I get something right. And that's why it's important to believe in what you are doing and care about your product, because it will get discouraging. It's important to have mental toughness and to keep going. All the theory and textbooks in the world don't compare to real world experience.
8. Entrepreneurs in your position usually work crazy hours and just get engulfed in the business, working to grow it as big as possible. Because of this, there is never a "normal" day, but what does your standard, as standard as it can get, day look like? What hours are you working, what are you doing, etc?
A typical, middle of the week workday for me varies in terms of the hours I work. I try to break it up into morning, afternoon and then after dinner. So I might work from 9 am to noon, take a break, then 2 to 6 pm, and then maybe 8 or 9 pm to 1 or 2 am. I spend a lot of time working with distributors all over the world, which makes for some pretty crazy hours as you can imagine. I make sure orders arrive on time and in good condition, find out how they are selling the product, offer advertising support and so on. I also spend a lot of time tweaking my website and studying Google Analytics, writing site content and improving SEO with link building, which gets tedious. Then there is time spent on Twitter, which I enjoy. And record keeping, which isn't so enjoyable to me.
9. You've obviously been using the internet a lot to leverage your business and grow it, if you didn't have the resources of the web, would you still have been able to successfully launch your business?
No, at least not in its current form. I really cannot fathom how people did business without the internet, I think about that often. If it was 1977 and I wanted to find a dietary supplement contract manufacturer or form an LLC, I would have no idea how to go about it. I came along at the right time I guess.
10. Continuing to learn as an entrepreneur is important. An easy way to do so is by reading books and following the paths of other successful entrepreneurs. Are there any books that you'd recommend to others that you like?
I would highly recommend two books by Paul Arden: 'It's Not How Good You Are, It's How Good You Want To Be' and 'Whatever You Think, Think the Opposite'. They are the two most motivational books I have ever read and I think any young entrepreneur would benefit from them. I honestly believe that every secret to success can be found in their pages. Also, 'Good to Great' by Jim Collins. Specifically the chapter on the 'Hedgehog Principle' as he calls it. 'Purple Cow' by Seth Godin is also an interesting take on marketing that I refer to often.
11. Along that same line, do you have any business role models that you admire?
I admire Phil Knight, the founder of Nike. Nike's marketing is always insanely good and I probably would have tried to build my business the way Knight built his early on if I was starting out in the pre-Internet age. It's hard not to admire Steve Jobs for what he has done, and Apple's marketing is also fantastic because they keep everything so simple and clean. In the beverage/supplement industry, I would say J. Darius Bikoff of Glaceau/vitaminwater and Dietrich Mateschitz of Red Bull, for the way they both built great beverage brands from nothing.
12. What's next for The Hangover Cure? Where do you see your business in 3-5 years?
I'm looking into a canned beverage form of my product in 2010 as the functional beverage market is booming right now and growing distribution networks worldwide. Like I said earlier, it's almost impossible for me to predict where I will be in a few years with the way everything is changing right now and the opportunities that are out there. I do see my brand's national and international visibility growing in the coming years though, that's about as concrete as I can be.