This is a Sponsored Post written by me on behalf of Jones Soda. All opinions are 100% mine.
Izea sure is filled with a bunch of characters! Whether it was Ted Murphy or someone else who found these crazy turkey hats, well, my hats off to you! I'm way behind in writing about this but still wanted to share some of the craziness with you all!
Back a week or two before Thanksgiving, I saw a tweet from the folks at Izea asking if people would like to receive a Thanksgiving care package. I responded with my address and waited patiently. I knew what was in the box, but still wanted it to show up quickly as I was leaving for Washington state for the holiday and wanted to have the hat for that trip. It would have been hilarious, in my mind, when meeting my wife's grandparents for the first time, to have the turkey hat on – what a way to celebrate the holiday! But, it didn't show up by the time I left and I had actually forgotten about the package until I picked it up the following Monday.
All of the sudden, my giddiness of a school boy came back and I was excited to open it up. Inside, well there was simply a flyer wishing a Happy Thanksgiving, the wonderful Turkey hat, and a bottles of Jones soda…and not just normal cola, but a Tofurky and Gravy Jones Soda Yum, not!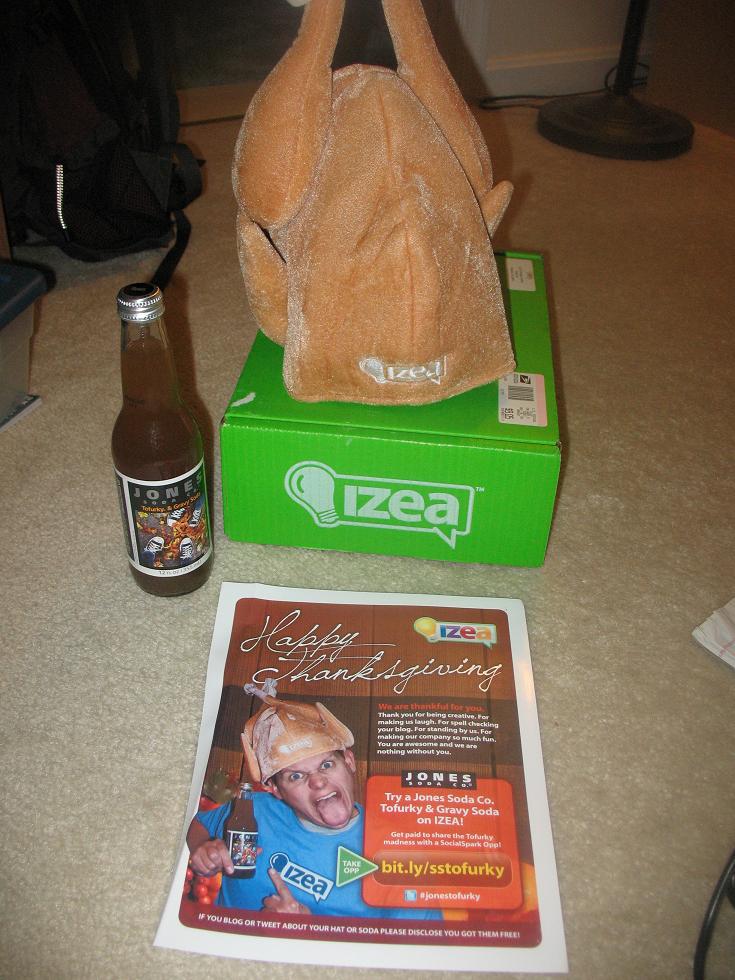 Now, there is no way in hell I was going to taste the soda, because I can only imagine how gross it is. Or, it could actually be really good, I have no idea and no desire to know haha. If you got a similar package from Izea, I'd love to hear if you tried to soda and what you thought of it. I mean I do like Turkey and Gravy, but just the thought of those flavors in a liquid form…no thanks. But, the bottle will sit on my shelf and be a funny item to pull out when showing people our house and my office!
Maybe I need to start a Jones Soda collection of unique flavors? BTW, my Wife didn't find the humor in the turkey hat…