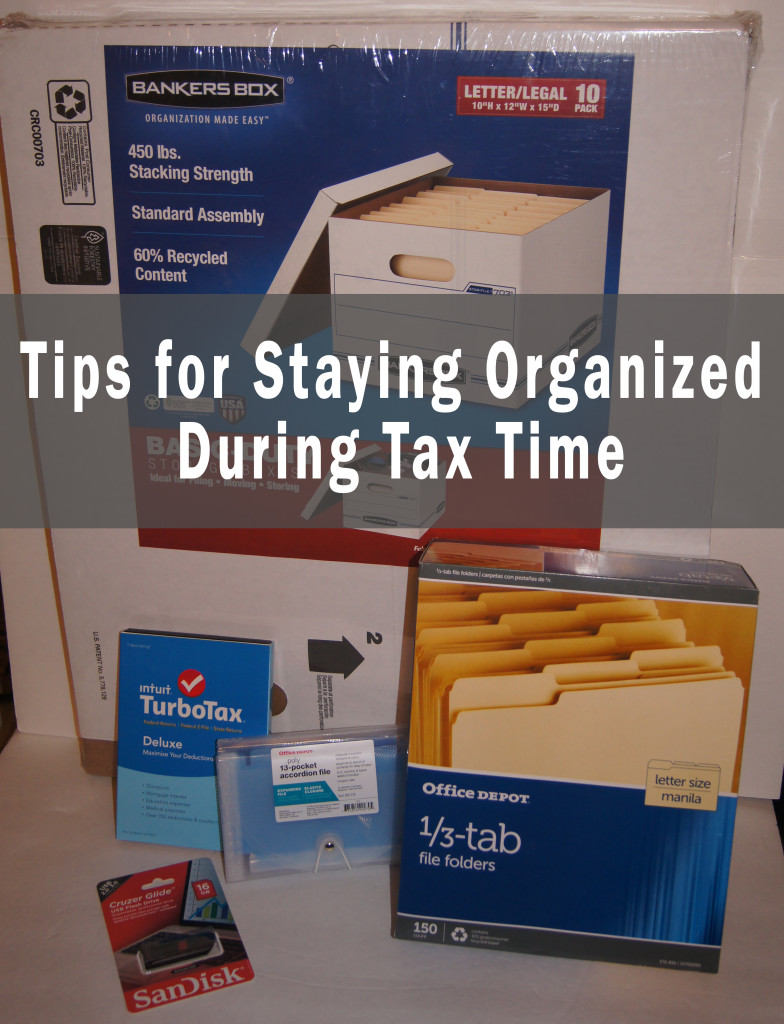 While there may be about a 1% chance of actually being audited by the IRS, keeping your files and information organized and ready for that potential audit is definitely, not only at tax time, but all year round. Whether a dorm room entrepreneur or a seasoned business owner, everyone can use a refresher on some ways to keep your self out of trouble! We've teamed up with Office Depot to share some great product to help you keep your business organized and not just have one big shoe box of receipts!
Keep Your Receipts!
You'll always hear everyone say to keep your receipts and while this fundamental part of staying organized and tracking expenses, the more important part of the equation is keeping them organized! When it comes categorize all my expenses between inventory, supplies, gas/travel, etc, it is nice to have all the receipts ready to go. While I won't categories until tax time comes around, I will group receipts by month and write on them what they are for (supplies, inventory, etc). This way, they can easily be sorted when the time comes. Using any type of accordion file folder is a good place to start. Office Depot offers them in different sizes and this small 13 pocket accordion file is a good size for store receipts and can be labeled by month.
You Can Never Have Too Many File Folders!
When you run a business buying and selling physical products, you are bound to have a huge stack of invoices, agreements, printed correspondence, and so much more from the companies you are dealing with. For my outdoor gear online retail business, I buy wholesale from over 20 different sources. That's a lot of bills being paid, purchasing agreements, and more to keep track of. I prefer to keep a file folder for each company and each year, so that I can keep things organized and be able to find something if needed – first by company, then by year. Once I have the correct folder, each folder is again sorted by month and it makes it super easy to find that missing invoice or other papers. Whether you write your tab names or print them on labels, the 1/3 tab file folders are the best option out there.
Bankers Boxes!
Sturdy and easy to stack & store, Bankers Boxes really do make managing all those file folders easy. Since I am always shipping products to customers, I have no shortage of boxes, but bankers boxes are the perfect size for file folders and staying organized. Heck, I even use some to organize my inventory and other items. So many options for them. Want to get creative with your office organization? Take a look at this DIY project where you can cover your boxes with fabric to make them a little less boring!
Backup Your Digital Files, Too!
Staying organized and prepared during tax season does not just mean with your paper receipts, but also your electronic files! The end of the year or tax time, or any other anniversary date, is a great time to perform a yearly (or more frequent) backup of your important computer files – emails, documents, contacts, and invoices or even your family photos and music files. My wife's laptop hard drive has crashed twice in the past 3 years. The first time we were not able to recover any of the files but luckily the second time I was able to save most files. Don't let this happen to you! Backup your files and data frequently if not at least one a year. USB storage drives like those from SanDisk have become so inexpensive over the past 10 years, there is no reason not to invest a few dollars in a flash drive and make this happen.
File Your Taxes On Time!
The most important part of staying organized during tax time? Actually filing your taxes! While you can hire a tax professional to do your taxes for you, more and more people are turning to tax software like TurboTax to do it themselves and save the extra expense. A great idea for young entrepreneurs and those running a hobby business. As your business grows, you can certainly still file your taxes yourself, but there's also nothing wrong with consulting an accountant for advice and feedback. TurboTax has a number of different software options depending on the types of returns you need to complete, so be sure to check out their website for all the different options.
A big thank you to Office Depot for sending us these organization supplies to kick of 2016 the right way with staying organized. Be sure to check out your local store for all your office needs!
While Office Depot supplied us with the products mentioned in this post free of charge (Thank You!), the opinions expressed are 100% my own and not influenced by the company in any way, shape or form.