If you're operating a small business from your bedroom, it can be tricky to make it look bigger. To land those big clients and convince the big advertisers, you need to show a certain professionalism. You can't exactly host a big meeting in your spare room! When it comes to sealing deals and taking the big steps, perception is very important. Of course, you can use smoke and mirrors to make your business appear bigger. Your skills and professionalism remain at the heart of everything. But, there's no harm in putting on a show.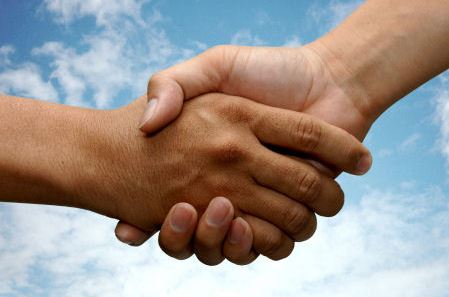 photo source
Get a better website
A lot of self-starting entrepreneurs build their own websites. It's easy enough to pick a simple template on WordPress and create your own space. What makes you really stand out, however, is a custom-built, bespoke website. Complete with a professional logo, tagline, and design, you'll appear ten-times bigger. Hiring a professional web designer is one of the best things you can do with your small startup budget.
Use office space and meeting rooms
If you've sent out a fantastic pitch to a client and landed a further meeting, you need a professional space. You can't invite them to your living room, and the local coffee shop isn't going to cut it! What you can do is hire dedicated office space or meeting rooms for the day. There are plenty of companies across the major cities that offer this service.
Make a personal impression
You may be a small startup, but that doesn't mean you can't dress to impress. Even if you spend your day working from home in your pajamas! As soon as it comes to meeting clients, investors, or important people, put on a suit. Present yourself in a professional manner and talk about your company in third person. "We believe we are the right choice for your next deal."
Virtual Assistant
You can now hire a virtual assistant that will work on a freelance basis for you. They'll take your calls, schedule your meetings, and greet clients on the phone. It's a simple way to look big and busy. Even if you are sat at home on your own, it will give the impression you're a professional business person.
A real address and phone number
It's very easy to spot a small company when they simply list their mobile telephone number as the main contact. Instantly, you can see that it's just a small, one-man company. Use a national number and a registered business address to improve your professional appeal. National numbers are easy to put in place and they're cheap to call. As for the business address, you'll need to use a virtual office, which is very affordable.
Brand and reputation
Finally, there's no better way of looking big than creating a reputation that precedes you. Landing coverage with the right influencers will help in a big way. You can also create content that reaches your target market and establishes you in your industry. A PR company is often the best way to help you build this brand identity and reputation.
Follow this advice and you'll grow the perceived size of your business quickly. Trust us, it will help you land that big client!