If you want to gain a bigger piece of the market this year, you need to start thinking outside the box on how to promote your business. If your business is new and fresh, this is particularly important because you want to make a bold move on the already strong competition as soon as you can. We know you are probably spending a lot of your funds on marketing your business, and that is your first mistake. Why spend money on marketing when you get it for free.
Get Your Company Online
Your first step should be to max out your company's online profile. If you have not yet set up a website, a blog or any social networks it is time t o get moving. Start with the website because this is easy to set up and to run. All you need is a builder like WordPress, and that will fill in the blanks that every website needs. Next, you're going to want to put up all the information that consumers need about your business and investors need about your potential. After this, you will start writing articles, and we suggest you look up how to use SEO. If you have a basic understanding of search engine optimization, great, but if not then you should look into hiring a company that can help you out.
Don't forget to start a blog the same way. These are easy to run and can be used as an online advertising space for your company. Finally use networks such as Twitter and Facebook to boost your support and get interest buzzing about your business.
Use Your Existing Customers
You have already got some customers we are sure, so it is time to start thinking about them as a commodity. There are many different ways to use your customers to boost business. We think the best way is to sell personalised merchandise. You can hire a company to make it for you with your company name or logo on. If it is stylish and attractive, your customers will wear it, advertising your business.
Attend A Trade Show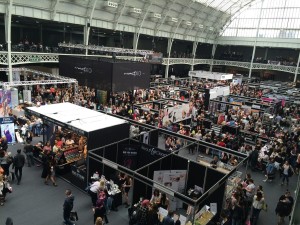 A trade show is a place to get your company seen by investors and gain more funding, which in turn, will make you far more competitive. Experts recommend that businesses book a place at a trade show about a year ahead and use it to introduce a new concept, idea or service to the industry. If you want to stand out at the show, contact Nomadic Display or a similar company. They are designers of printed media that can be used at your trade show stall to make sure you stand out from the competition. Remember, if you do get some interest from investors act on it straight away, or they might move on to another company.
Show Some Skin
Our final marketing strategy is not at all how it sounds. It means to show that there are humans behind your company that care and have feelings. This can be participating in a charity event or helping a local community. It is doing something that shows you are just about being successful and that you do care about your customers.