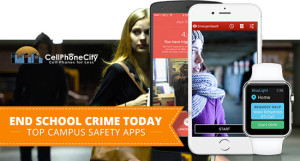 Our friends over at CellPhoneCity.com shared this great list of campus safety apps with us and we wanted to pass these along. Campus safety, both for men and women, is a big issue lately with an increased number of reported incidents around the US. We've previously written about keeping your stuff safe in your dorm room, but keeping your self safe is a whole other topic.
Staying alert and aware of your surroundings is always good, but sometimes not always possible if it is dark out or you had a little too much fun at a party. These apps could definitely add an extra layer of security to your routine, so consider checking them out! Many have similar features of monitoring your location, sending SOS messages to emergency contacts, and dialing campus security with one button click, but others have some unique features to them, so head over the full article to see all the details and recommendations!
Watch Over Me
React Mobile
Campus Safe
Emergensee
Guardly
LiveSafe Mobile
Rave Mobile Safety
Panic Guard
Circle of 6
911 Cellular Safety App
BlueLight
Bugle
You can read the full details of each app and more about campus crime & safety at CellPhoneCity's article and website.