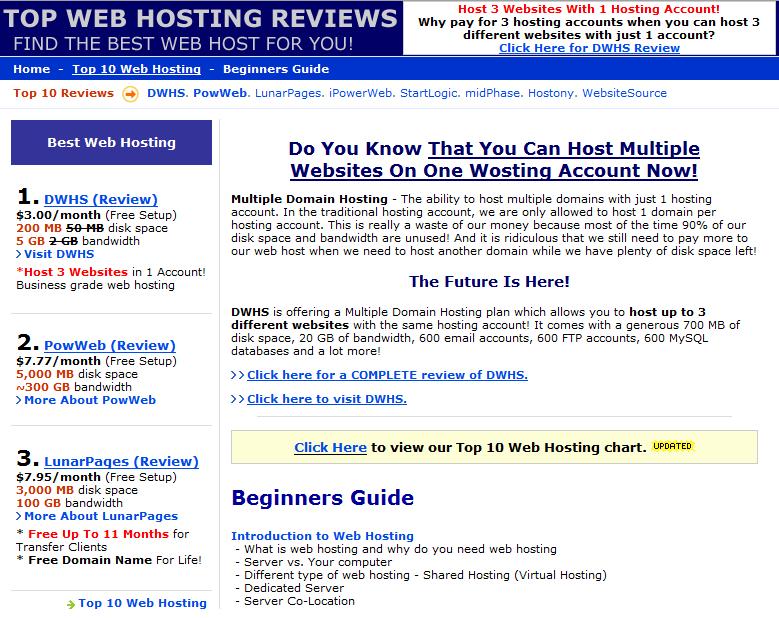 Looking to find a new web host for your sites or business? Check out Web Hosting Pal to help you compare packages at different companies and also to read different Web Hosting Reviews.
The website helps you to check out many different web hosting companies, read reviews about them, and compare their packages against others. Based on reviews and packages, they also provide the Top 10 web hosting reviews in a nice chart.
Besides just providing basic comparisons of different hosting packages, they are great enough to even provide some overviews and beginner information about hosting.
Introduction to web hosting featuring:
What it is,
Why you need it,
Different types of hosts and servers,
Dedicated services, and
OS options
Introduction to domain names featuring:
What they are,
Why you need them,
How you register them, and
DNS (domain name system)
Email hosting info featuring:
What is email,
Creating email accounts under your domain name,
How to check and send email,
IMAP,
Email forwarding, and
Auto-responders
If you would like to compare some cool hosting packages and see what works best for your needs check out Web Hosting Pal! The site works well and is easy to navigate but they could use some more reviews, so send them a review of the company that you use!