So a lot of people have been posting up pictures and videos of what their blogging offices look like, so I thought that it may be time to show you a behind the looks scene of Dorm Room Biz (and all my other projects and business ventures for that matter).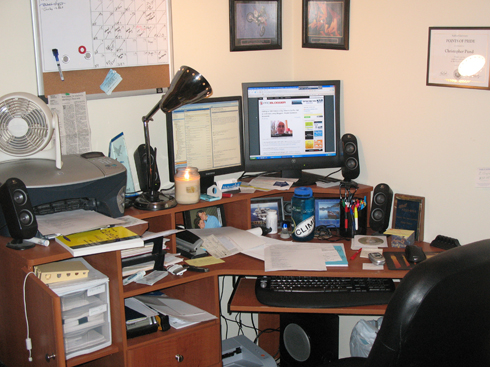 This is my desk, pretty basic corner desk in design, yet the function is completely different. It works as a hodge podge of everything and anything that I am working on during the day including school work, blogging stuff, eBay stuff, web design stuff, and anything else. It is usually pretty messy, as you can tell. You will also notice a simple HP color printer/copier/scanner on the left of my desk. Underneath my desk, a little harder to see, is a Samsung laser printer that gets a lot of use. I have limited my printing on the inkjet to class assignments, PowerPoint presentations, and shipping labels.
As I had shown off before I also use a laptop. I do like being able to have enough room on my desk so that I can put my laptop on the desk and still work on my desktop at the same time as the laptop. This helps when I only have a file on my laptop but need to make edits to it or get it out to my desktop. The printers are shared so I can print to them from anywhere in my apartment.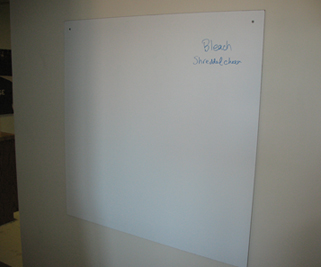 I had mentioned previously that when I moved into my new apartment and got everything set up, I was going to put up a large dry erase board. I followed the help and instructions from Startup Students and Mind Petals to get this accomplished. The only downside is that it is hard to erase some stuff sometimes. For some reason, it seems to wipe off better a few hours after it has been written then right away.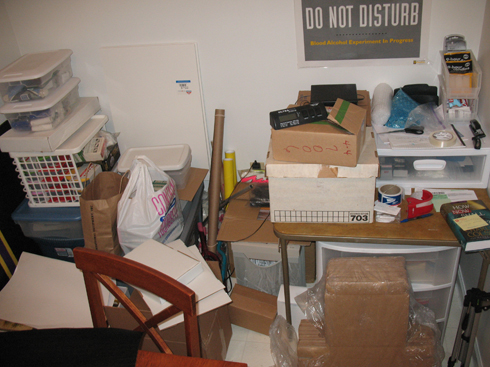 Here is my eBay shipping station/warehouse/office. This has just about everything I need/use for eBay. All of my inventory and other peoples items are sitting here, all of my packaging materials and boxes, my scale, and everything else. As you can tell, it is not the most organized looking, however, I do have a nice system in place that lets me keep track of all the items that I have for other people and also of my own inventory levels.
What does your blogging set up look like? Or you office set up in general? Maybe Bobby will even get a chance to snap a couple pictures of his place and throw them up later.