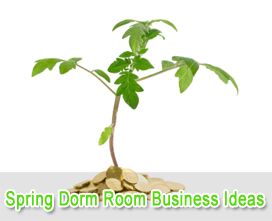 With the spring semester approaching quickly, it is time to start thinking about some different business ideas to start out of your dorm room to help you pay off all those bills from your winter break including holiday shopping and anything else.
So, here are a few different dorm room business ideas that you could launch from your dorm room or your apartment and turn some profit with. Over the next couple weeks we will work on expanding each of these ideas into a more in depth post with a little extra research added into them.
Without a further a do, here are 5 business ideas that you can launch while still getting your homework and studying done at college.
Spring cleaning service – offer a cleaning service in the dorm rooms and around campus; cleaning, vacuuming, trash removal, etc.
Lawn care for local community and students – although most students who rent houses with lawns are not the ones responsible for maintaining the property, so houses are privately owned by the parents or family of students who attend the school. Contract with them to do the lawn maintenance so that the renters (the students/family members) do not have to.
Safe ride services (outsourcing the DD programs) – partner with Greek organizations to offer the service to their organizations.
Beer delivery service – contract with a convenience store (not a 7-11, something mom and pop style) and offer the delivery service. Legal issues with checking ID's, not purchasing for minors, etc. Stores at different universities already offer this service – do enough research to find out how they make it work.
Restaurant delivery – many restaurants won't offer a delivery service because of the expense in maintaining the insurance, having extra staff/drivers available, and the time needed to do so. Offer the service as either a flat monthly rate or even based on a commission of each order.
Of course, if you are looking for something more internet based, you can always consider starting an eBay business, a website development business, or creating niche stores offering products such as custom shot glasses.
So, look out for some future posts coming with more background on the different business ideas above to help you launch them when you return to school after your winter break.
Winter break is the ideal time to start thinking about a business opportunity, start doing the research, and get the planning of it started. When you return to school link up with a couple mentors, business professors, or friends who can give you honest feedback on the business, understand what you are trying to do, and help you expand it. There are so many resources on a college campus to help you start a business it is crazy – you just have to take advantage of them!