Having a clear idea about exactly where your company is at any given time is essential for planning its future. However, it's not always obvious exactly where your company is. When you ask most new business owners how their business is doing, the typical response you get is "alright." Unfortunately, the answer itself, even if true, is inadequate because it reveals that the person actually has no idea how their business is doing. The best answer would be one that is quantitative and goal oriented. So what do I mean?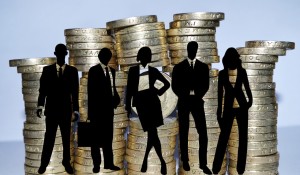 Credit: pixabay.com
Set Goals
The first thing to do is set goals. These should already be set out in your business plan, but it may be that your goal has evolved. Perhaps you've realized that the key to long-term success in your industry is to first attract a wide base of customers. Or maybe you have a new objective to penetrate a new market segment. Settle on a real number, like the percent of the market you'd like to attract. And then set a deadline for achieving that number. Keep adding feasible goals until you are happy.
Work Out How To Measure Success
Knowing exactly to measure your own success can be tricky.  But there are some basic measurements that everybody can do. If your goal is to increase your production, you'd obviously begin with measuring plant capacity. Or if your objective is to upgrade depreciating equipment, then you'd want to start with the average age of your equipment and go from there. Perhaps staff turnover is too high. This would imply keeping a log of how long your average employee is with you.
Do Research
Knowing exactly how to improve your business performance can be a tricky business.  So is knowing exactly how to succeed with big data, or integrate your financial and operational data is difficult. That's where business intelligence resources can really come in handy. They're able to offer a range of in-depth analyses of common business problems that you can potentially use and apply.
Once you've done the research you can know the best thinking thus far for solving your particular problem.
Focus On Customer Retention
One of the best ways to achieve customer loyalty is to work on your core product and services. Retaining customers actually has many benefits for your business besides improving the bottom line. One way to do this is to make staff more customer aware. When staff become genuinely customer focused there are important knock-on benefits. They're more helpful in general and more productive. And they help you to deliver on your advertising promises.
What's more, when you build successful relationships with customer, you'll be able to get them to do a lot of marketing for you. They'll be more likely to go out and tell other people about your business and their good experience.
Use Your Information
Once you've finished gathering all the information you need, it's time to carry out your plan. You'll have a much better idea of what are your company's strengths and weaknesses. A good plan will timetable how you will address your company's performance weaknesses. Try small steps at first, and then track any changes. They'll soon add up.