All companies usually have large account customers. These are the clients that spend six or even seven-figure sums each year. When your firm has such high-value customers, you will clearly want to retain their custom and do what it takes to keep them happy.
Perhaps the most practical way of doing so is through corporate hospitality. In a nutshell, there is where you invite your key accounts customers to attend special events where the cost is covered by your firm.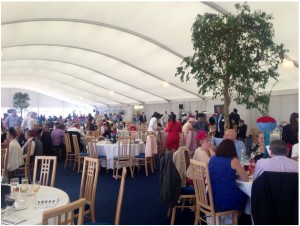 The question is whether you think corporate hospitality is a good idea for your high-value clients? The answer should be yes!
Continued sales
The main justification behind corporate hospitality is that it helps to retain your key accounts. It also pretty much guarantees future orders similar in size to previous ones. It's likely that your business relies on such clients to generate a substantial amount of revenue and profit.
The last thing you want to do is give those customers a reason to buy elsewhere. Events like those seen on the DTB Sports website are a brilliant way to discuss future business prospects in an informal setting. It's also a good way to know more about your clients on a personal level.
Incentives
You might not think it, but your high-value customers want to have incentives for spending large sums of money with you! For example, if they buy thousands of your products each year, you will offer them a handsome discount on their volume orders.
But you will also want to thank them for their custom, and for supporting your business. This is especially important if you run a small business. In these occasions, a simple "thank you" greetings card just doesn't cut the mustard!
Entertainment
When you forge business relationships with people, they aren't going to want to "talk shop" all the time and neither will you. When you feel like doing something fun away from the office, corporate events like sports matches are a brilliant idea.
You can make the event exclusive by hiring a VIP area of a stadium, for example. You might even want to hire former or current sports personalities to give a talk at the event to your party.
The whole point of such events, aside from enjoying time away from work, is to make the occasion memorable. In the business world, you need your customers to remember you first instead of your competitors when they next need some products or services.
Networking
Perhaps the biggest takeaway from hosting a corporate event with your bigger clients is the networking aspect. You have the chance to connect with new employees that work for your customers, and finding out more about what they do.
It's also a chance to discover what new projects they have in the pipeline. That way, you can be on hand to offer your products and services when they are ready.
So, now you know the importance of corporate hospitality with key accounts customers, it's time to start putting this knowledge into practice!